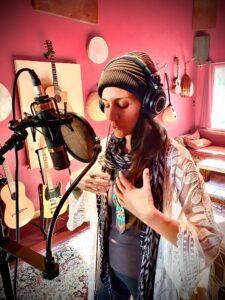 Recently Aea Luz shared her beautiful, newly released album, Dust & Light with us. We loved it so much, that this month we are featuring one of her songs on the latest podcast extra. Here is what Aea had to say about the inspiration of "One Thing Goin' On."
This song came through at the peak emergence of the Black Lives Matter movement in 2020. I sat and cried, feeling utter grief and rage in the face of collective ignorance and separation-based narratives fueling racial inequality in our world.
Brought to my knees once again by this heartbreak, I became inspired and activated in welcoming the grief and anger to have a seat at my table. In this allowing, I began to tune in deeply to this ONE, sacred, precious, inseparable heart that is holding it all.
The song began to sing me, an anthem of truth and devotional inclusion of all my parts, and all that ever appears to be "separate."
This song is an invitation to recognize the essential heart of light at the core, and to align with this truth as we dismantle oppressive systems from the inside out and pledge our allegiance to love.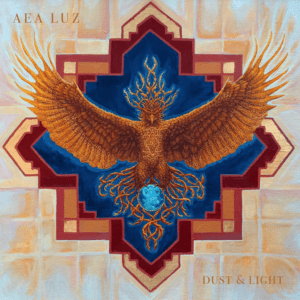 "One Thing Goin' On" is one track from my newest album Dust & Light, which has a number of songs written in retreat with Gangaji over the last 5 years.
Since first meeting Gangaji in the spring of 2017 at Fallen Leaf Lake, the transmission I receive in her presence profoundly informs and inspires my music. One of the greatest gifts and honors of my lifetime has been to sing in Gangaji's presence, surrounded by this beautiful sangha!
I currently live in Northern California and offer these soul songs as vibrational medicine to serve the realization of who and what we are. I delight in sharing my music in retreats and at healing events.
To listen to more music by Aea and download her Album here, or visit her on Bandcamp.
Listen to the latest podcast extra here.
One Thing Goin' On
Looking in the mirror I see the light
Woven with the dark I am alive
The well of peace and the way to war are side by side
No where to run the time has come the truth we cant
Deny….
What will we do, we are the ones
Molding the future for our daughters and sons
Well keep movin' on, we will sing our songs of equality
All the colors of the rainbow are inside
There's only one thing goin' on
we all come from the heart of creation
One thing goin' on, we all come from the heart of creation
In the end not one can pretend
that the blood in our veins is not the same
In the end not one can defend this lie
Of separation
So I'm Lookin' in the mirror I see the light
Woven with the dark I am alive
The well of peace and the way to war are side by side
No where to run the time has come the truth we cant
Deny….
What will we do, we are the ones
Molding the future for our daughters and sons
Well keep movin' on, we will sing our songs of equality
All the colors of the rainbow are inside
Theres only one thing goin' on
We all come from the heart of creation
One thing goin' on
We all come from the heart of creation
So what is simple what is clear
What is love, what is true
What is simple what is here
What is love, who are you
When your sitting in the silence, waking to the wild
Savoring the sound, standing on this ground
Sitting in the silence, waking to the wild
Savoring the sound, standing on this grou
from Dust & Light, released July 13, 2022
Aea Luz~ Lead and harmony vocals & guitar
John Alevizakis~ Keys, bass guitar, various percussion, vocal harmonies
Christopher Krotke~ Drum kit
Ken Becker ~ Cello
© all rights reserved