September 11, Perthshire, Scotland
Dear Kat,
I was so sorry to hear about the devastating fires in North America. The news only reached us here yesterday as did the Email about Ashland, and the information that two Leela members lost their homes.
I was very glad to hear that Gangaji and Eli are safe. The newsreel here reported that many people in Oregon were evacuated. I don't know where your home is but I do hope it wasn't affected. In troubling times Gangaji's teaching and meditations and community forum have been beacons of light.
We had an unprecedented storm and flooding in our area three weeks ago - the length and strength of the storm were described as a "one  in 600 years occurrence." We were lucky in that only the foundations of our house and garage were flooded, but still, we had to move out as the floorboards and furniture were removed and huge dehumidifiers have been permanently switched on for two weeks now.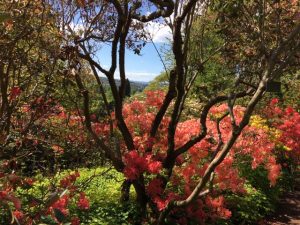 The destabilization, uncertainty, and temporary move into a tiny rented apartment were disorientating and not helped by having to undergo a minor operation as a day case. The knowledge of how fortunate we were to be insured and have family and friends to help, compared to many displaced people around the world did not quite mitigate the fear and worry, however. In addition, Covid case numbers started rising again as people became careless about social distancing and mask-wearing and started traveling abroad again.
The rented apartment at first appeared soulless and strange. The usual markers and comfort zone had disappeared. The only place to go was deep inside. The void was experienced as a deathly place to be feared and avoided, but something changed. Turning to Gangaji's recordings, and reading participants' similar experiences on the Forum strengthened me and gave comfort and courage.
A difference in perception and in seeing things, more lightness and self-kindness, and finally a realization that the (seemingly dark) place deep, deep within can be welcomed and embraced as a friend whose loving arms peacefully embrace, and do not threaten or harm.
Love and light to all who have suffered through the fires, and to you Kat, for having taken time to write to me,
Irena Thomson.