The Grace Is in the Giving
The Gangaji Foundation River Legacy Fund - Flowing Support to the Almeda Fire Victims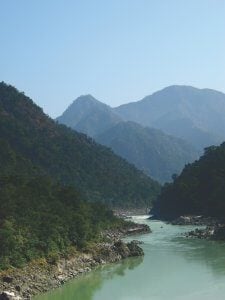 Our family of donors and volunteers are the ones who make the work of the Gangaji Foundation possible. As a community working with Gangaji side-by-side, we want to offer this invitation to peace to the world, today, tomorrow, and even to future generations.
In 2013, the Gangaji Foundation Board of Directors established the River Legacy Fund to ensure the Gangaji Foundation would be financially sustained in both good years and challenging years. When we receive a bequest, we set it aside in the River Legacy Fund, while gratefully relying on monthly pledges and one-time contributions for our daily operations.
On September 8 the Almeda Fire ignited about a mile East of the Gangaji Foundation offices. Driven by 40 miles per hour winds, the fire was unstoppable as it cut a 9-mile path of destruction through the Rogue Valley. As the smoke cleared eight days later, it revealed the catastrophic destruction of our neighboring communities of Talent and Phoenix. Over 2,700 homes and businesses were destroyed.
The losses for many families, seniors, farmworkers, and students were total. Many escaped with just the clothes on their backs. When Joey and Leigh, the staff of the Leela Foundation, returned to their home in Talent, there was literally nothing left. Their home and belongings were all gone including all the Leela Foundation files and computers. A total loss.
While our hometown of Ashland was almost entirely spared, this was an emergency we needed and wanted to respond to with our love and on-the-ground support. The wind could have just as easily blown right in our direction.
In moments like these, when the needs are so great, it is a joy to give. Last year, we received a bequest from a Boulder sangha member that makes it possible for us to help some of the Alameda fire victims. While this sangha member was not well known in the community, never raised his hand in a meeting, and remains anonymous, he did pay close attention to what Gangaji was sharing and knew its value to his life.
We contacted the trustee who manages the estate, letting him know we wanted to help these fire victims. He told us, "I'm very happy to hear, as I'm sure he would be, that these funds will help assist people who were so tragically and catastrophically impacted by the fires. That's some good and encouraging news." Indeed, it is good news.
Making the decision to pull money out of our River Legacy savings, Gangaji and the Board of Directors selected two local charities to give to: The Oregon Food Bank that feeds families impacted by the wildfires, and Unete's Fire Relief Fund, an organization that provides financial support to immigrant families for their basic needs like food and gas. Naturally, we also wanted to help our sister organization, the Leela Foundation, with the replacement of computers and electronic equipment lost in the fire, as well as the expenses for opening a new office space.
It will take years for our community to recover, but we are pleased to be able to help our neighbors take a few steps forward. The grace is in the giving.
With gratitude for your love and support.
Barbara Denempont
Executive Director
PS — Take a moment to read Harriet's story of how she and Shanti, two of our staff members, had to evacuate from their home during the Almeda Fire.