September 8, 2020, is a date that will long be remembered in this valley. It is the day when thousands of people in the small towns of Talent and Phoenix, OR lost everything. Small businesses just getting back on their feet, favorite family restaurants, trailer parks, residential neighborhoods, gas stations, grocery stores, gyms, banks, pet hospitals, and doctors' offices were all consumed in a matter of a few hours by a devastating wildfire. The loss is staggering, and the scar, still so visible in these towns, will take years to heal.
On that day children were just going back to school for the first time since the Covid lockdown of the spring. By the time the school day was over, their homes were gone, their possessions turned to ash, their pets mostly fled, and their lives forever changed.
Although small in acreage compared to many wildfires, the Almeda fire was noted as one of the most destructive in recent history. It wiped out the better part of two whole towns, causing the loss of some 2,700 structures, and displaced thousands of families.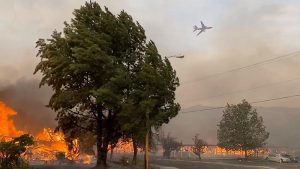 On the morning of September 8, the air was clear and a strong South Easterly wind had picked up overnight, whipping through the valley and littering the garden with pinecones and small branches. After months of no rain and record temperatures, the air itself felt brittle.
Just before 11:30 AM, we were made aware by our local warning system of a fire on the outskirts of Ashland, only a mile away from the Gangaji Foundation offices. Instead of threatening Ashland, however, the fire was driven along the valley floor with horrific speed toward Talent and Phoenix, the neighboring towns. Within a very short space of time, the greenway that runs along the I-5 corridor was consumed, and the fire, leaping from dry grass to structures, to old-growth madrones and blackberry bushes on the side of the creek, had reached the outskirts of Talent where Shanti and I live.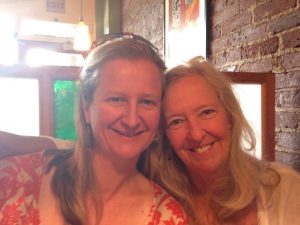 Our house lies in the crease of a hill that dead-ends in the mountains. The only way out by car is down. We could see the huge plume of smoke coming closer. Before too long evacuation orders were being called for Talent, and the power supply for the whole town had gone out. In a daze, and unable to quite grasp what was happening, we packed some clothes, a small box of important papers, some extra water, a tent, dog food, and a few treasures and left our home, not knowing if we would ever see it again.
But leaving was not so easy. The streets were clogged with cars as people tried to get away from town and find their way to safety through the back roads. We encountered a young woman leading two horses away from the fire, and many families, with their vehicles packed, had pulled onto higher ground to get a better view and wait it out.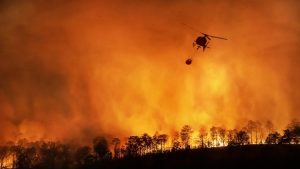 Watching a whole town burn is a lot to take in. We could hear constant explosions coming from downtown, and see what must have been 30-foot flames erupting. Air tankers began dropping fire retardant, while two helicopters drew water from a pond nearby, dumping their load on the fiery river of burning homes and businesses.
Although the wind was giving the fire a single-minded direction along the valley, it was abundantly clear that at any moment our position could be engulfed if the wind changed even slightly. All roads to the south and east were now closed. Rather than being trapped in a gridlock of traffic heading north, we made the hard choice to escape via dirt roads into the mountains. With only a third of a tank of gas and a patchy cell signal, we set off as the sun sank into an eerie, smoke-filled sky. Two hours later we reached the backside of Mount Ashland, and from there made our way to the safety of a friend's house. Amazingly we still had some gas to spare.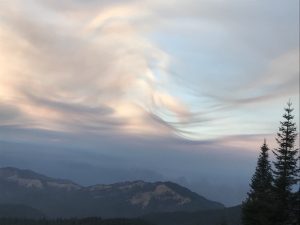 No-one slept well that night, or for nights to come. The wind was finally dying down, but we were on high alert, not knowing for sure that our house was still there (it was). When I did sleep I was haunted by the images I had seen, and every hour or so I would jerk awake and search my phone for any more information.
The day of the fire was filled with drama and uncertainty, whipped by devilish winds. In the days that followed, as the reality of what had been lost began to be known, a kind of shock set in for the whole community.
A smoke so thick and toxic settled over the entire valley. As toxic ash rained down, it was extremely hazardous to be outside, and even inside felt unhealthy. Back at home, with no power, we acquired a small generator, enough to run the fridge, an air purifier, and a few lights. We closed off most of the house and lived in a couple of rooms, cooking on a gas camp stove.
As roads in town opened up and we were allowed to drive through the areas that had burned, what greeted us was devastating. Whole neighborhoods had been flattened. The intimacy of small details left behind, like a garden bench, or the shell of the patio set, or a niche on a chimney, reminded me of photos from war zones. Everything was grey and ashen, the tangled metal of collapsed roofs and burned-out cars, the skeletons not of people, but of their lives left exposed by the side of the road for all to see.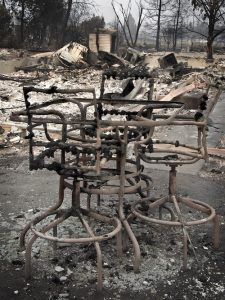 Here in the valley, no one is untouched by this. This is our community. We all know someone who lost their home or a restaurant we loved that is gone, or a business we patronized that is nothing but a mess of ash and melted plastic. It's just sad, and you wish with all your heart it had not happened. Some of the worst destruction was in densely populated trailer parks along the edge of the freeway. And with that comes huge hardship and uncertainty for many hundreds of families already on the edge, already struggling because of the pandemic.
In the wake of the fire, as so often is the case with natural disasters and common calamity, came a wave of great warmth and generosity, as people opened their homes, donated food, water, furniture, tents, clothes, and much more. Local social media channels exploded with information about where to donate and groups of volunteers (many on bicycles) offered help to fire victims. Volunteers armed with kibble sought out displaced pets, many badly singed. Impromptu free markets sprung up to receive and dispense much-needed donations. A local Mexican restaurant that survived became an important community hub for displaced Latino families, many of them migrant agricultural workers, and communities rallied to help each other. As we head into winter there is still so much needed. For those of us whose homes were untouched and whose lives could fairly quickly return to normal, it feels so important to have a way to show up in support of the thousands who were not so lucky.
As I write this, I find myself walking a fine line of survivor's guilt and dreadful panic that it could happen again. If it did, I would know how to be better prepared, but it is hard not to think of my home as potential fuel for yet another fire. It was blissful for a moment when the power finally came back on, and we could take showers, flush toilets, and do dishes. I felt a guilty pleasure in the ordinariness of being safe and comfortable in my own home, even knowing that there were so many people with no home to return to. But that same evening there was another high wind advisory and the Sheriff put the entire County on a level 1 evacuation alert. That's when I found myself on the United app on my phone, looking for the next flight out. Of course, I immediately realized that we have a dog and Shanti's mom lives here too, and anyway, where would we go? But my sudden urge to run in the face of the potential of another fire was huge.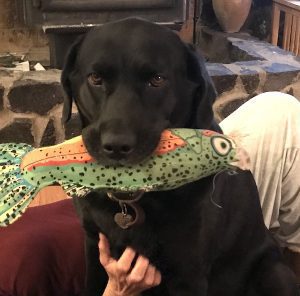 The pandemic has brought much suffering and loss, but it has also blessed many people with a time to simply be at home. I've been one of those lucky ones. With zoom meetings and passable internet, I have, for the most part, stayed home since March. I have been able to do my work for Gangaji, plant a garden with Shanti, and lead a simpler, quieter kind of life…until the day of the fire. On the day of the fire, I was forced to flee my home and contemplate the loss of all that had, until then, seemed like such a haven of rest.
So it's been sobering to dig a little deeper into that, and to open my mind to what it really means to be at home: exactly right here, no escape, the deepest joy and pristine certainty at the core of my being, untouched by any of it; but also not excluding the heartbreak, loss, regeneration, hope, fear, and uncertainty of being a human on this fragile planet.
I woke this morning to the sound of steady rain on the roof. Such relief. The golden grass smells sweet, and the drought-ridden trees and bushes outside my window, their leaves still drooping after more than three months without rain, are washed clean of dust and dripping. For this English girl at least, ….well, that feels like home!
October 2020
Read a letter
from Barbara Denempont, Executive Director of the Gangaji Foundation, about how we have responded to the devastating losses of fire victims in our immediate area.