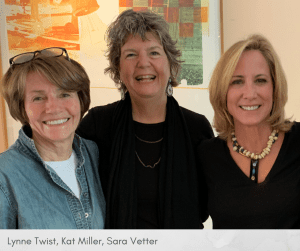 Last week Barbara Denempont, Hillary Larson, and I had the extraordinary opportunity to sit down with Lynne Twist and Sara Vetter in San Francisco.
Lynne, a renowned global visionary, is committed to alleviating poverty, ending world hunger and supporting social justice and environmental sustainability. She is the author of "The Soul of Money: Transforming Your Relationship with Money and Life," and is passionately working to end the destruction of the Amazon through the Pachamama Alliance.
Sara works side-by-side with Lynne. As the Director of the Soul of Money Institute she oversees the programs that bring a new level of consciousness to the way money impacts our lives and society. And in her spare time :), Sara is the major gifts officer for the Pachamama Alliance.
Lynne and Sara generously shared their wisdom and experience with us to see how we can deepen the capacity of Gangaji's Prison Program. We felt held by their love, care and knowledge. They gave us much to think about and to take action on in our mission.
Let me share this quote from Lynne…"Money travels everywhere, crosses all boundaries, languages, and cultures. Money, like water, ripples at some level through every life and place. It can carry our love or fear, it can be used by and merged with the longings and passions of our souls."
Barb and I are grateful to Hillary Larson for making this meeting possible. Hillary has played many roles at the Gangaji Foundation including coordinating events in Portland, hosting of A Conversation with Gangaji, and being on our strategic team. Thank you Hillary for giving your support over and over again!
Thank you Lynne and Sara for giving your lives of service so fully and lovingly and sharing your breadth and depth of wisdom so freely with us. We are truly honored.
Kat Miller
Director of Donor Services