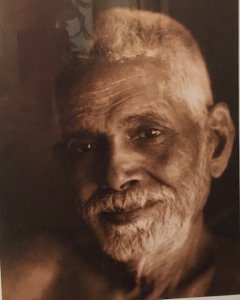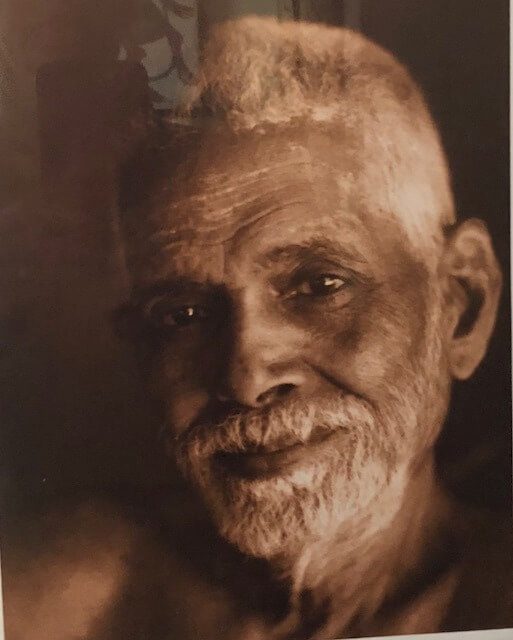 I am seventy now. In my early twenties in the 1970s, I was already a sincere and driven seeker. I had been practicing Hatha Yoga and teaching it through a center in Manhattan.One day, a student put an envelope into my hands. He nodded his head reassuringly as he urged me to take it. He said it was Ramana Maharshi.

I lived alone. I was going through a divorce and recovering from a legal abortion. Most of my comfort came from the natural world. Out of my 4th floor apartment window, I empathized with the birds pecking for seeds, watched the seasons change, and emptied myself into the trees that sheltered my tall windows.

When I looked at the photograph of Ramana Maharshi for the first time, I can only call it an instant transmission. I felt completely understood. He looked directly into my heart and soul and knew my suffering. He knew my struggle. He knew my yearning. He knew my pain. My excruciating self-hatred didn't seem to matter to him. He could see it, but it didn't get in the way. Before that moment, it seemed as if nobody had ever truly seen me before. I cried with deep spiritual abandon. I never read a word he wrote.

His picture graced my first altar. I thought there must be rules about how to make an altar, but I didn't know what they were. So, I used an orange crate, placed it on the floor against the wall and covered it with an embroidered white linen napkin. It was the prettiest thing I had. I added his picture, a white candle and a tiny vase of flowers. He was my teacher now. I knew everything just by looking into his eyes.

This connection transformed my room into a sanctuary. Resolute, I declared my most ardent prayer from within: "Dear God, my goal in this life is to walk through this world clear and free. Please help me do that."

I don't know how I knew that then. I just did. I was born to do this work. I have devoted my life to this intent and purpose, and I continue to do so with every breath, even when I am dry and barren and in the middle of a spiritual crisis, as I am right now. I try to remember I am not alone, even when I feel the most lonely.

Eighteen years ago, I heard Gangaji for the first time. I started reading and listening to her teachings. Her voice resonated like chimes in my heart. In 2005, I went to Esalen to attend a silent retreat with her. It was there I saw the same compassion-filled photograph of Ramana I had placed on my altar and I realized then that Gangaji was the present-day holder of Ramana's lineage.

Even though I walk a circuitous path, and love deeply with other Masters, Ramana is always there. He is there forever with all of them.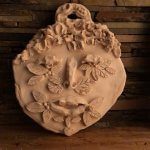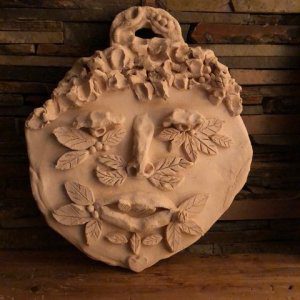 Judith Smith writes, gardens, cooks, communicates with plants, swims in the ocean and sculpts bas reliefs of the natural world depicting the return of the Divine Feminine to our planet. She rescues old dogs and any-age cat who needs a home. She's authored three books, one of which was an award-winning children's book. Her favorite is her memoir called Growing Myself: A Spiritual Journey Through Gardening. She and her husband are living with aging, illness and death.