"I write music to create a place of refuge - for myself, and for all who are drawn to a place of deeper peace." 
Scott Reich's musical story begins with his father, Lenny Reich, who was a jazz trumpeter and band leader. Scott can remember wonderful, formative experiences going to jazz clubs with his father as a child. His love of music eventually led him to study at Berklee College of Music, Amherst, and to complete a doctoral program at the University of Michigan. But then, his life took an unexpected detour. He moved to New York City to begin a career in the music industry but surprisingly, he ended up working on Wall Street.
Many years later, Scott's love of music and his spiritual path, called him back. He left New York and hedge fund management to take respite in the beauty of Kona, Hawaii. Today, he is composing and producing his music in San Diego, California.
It was only recently that his spiritual journey (and YouTube's algorithms) led him to Gangaji. In that there was something that he heard for the first time:
"Once I encountered Gangaji, and just heard her voice, just by the quality, the music of her voice, I knew that I had found the entryway to my home. Among my early spiritual readings, one that I especially loved was Thich Nhat Hanh's, "Your True Home." After many years, it was – and is – such a great joy to finally feel that the doorway is here. And it's wide open. I cannot express the gratitude and love I feel that she has come into my life and revealed this to me, revealed my Self to me."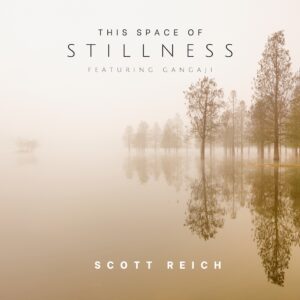 Recently, after listening to one of Gangaji's podcasts, he was inspired to create a new composition that blends his music with Gangaji's words. Scott shared with us, "It is the intention of my heart that this can help bring her light to more of the world…and I have no doubt that the world will be a better place because of it."
Scott further shared, "I write music to create a place of refuge - for myself, and for all who are drawn to a place of deeper peace. This refuge was built to be far away from all that vexes you, and very close to all that delights, comforts and elevates you. The harmony that you hear is only meant to be an accompaniment for your own song, the one from your heart, that sings of your own inner beauty and completeness. The music here will not make you complete. But maybe, as it resonates with your own song, it will help you to realize that you are already complete, and lovely, just as you are, right now."
Now take a moment to listen to This Space of Stillness…
Listen on Spotify
Listen on Apple Music