Back in the early 90's, the Crips and the Bloods arrived in Portland. It seemed like it was always in the news. Dangerous gang kids shooting each other, occasionally hitting an innocent victim caught in the crossfire. I was a white person living on the white side of town (which is most of Portland), very much removed from the ruthlessness that racial injustice predictably inflicts on people that don't look like me.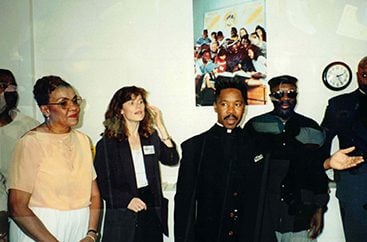 If you would have told me then that I would be spending the next 8 years working in the middle of what was then the Black part of Portland (since gentrified), I would have said you were crazy. It wasn't that I didn't care. I did. It's just that I had had a career that didn't even begin to include running a literacy center for gang kids in the realm of possibility. But there I was.
Eventually, all sorts of people started coming through the door; 95 percent were African Americans, some were from Cambodia, others from Haiti. The youngest was 6, the oldest was 68. Every single one was a survivor of a system that, at best, made their chances of attaining an outwardly comfortable life such as mine pretty much zero. They were extraordinary. They were my teachers. They pulled me out of my limited reality into one that was challenging, foreign and endlessly enriching.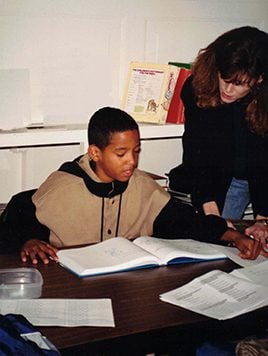 During that time, I never let on that sometimes I had anxiety so bad that it took all the courage I could muster just to drive to work. On the outside, I was the one who interviewed students, gave tours to public officials and shared emotional success stories at fundraising events. On the inside, although I was operating from the original place of passion, all that became increasingly drowned out by my own suffering. Eventually, anxiety took me out of the game. Truth be told, it also almost took me out of the game of living altogether.
Then I met Gangaji. The year was 2007. By that time, I had long since made getting rid of fear my life's mission. And I was exhausted. Her invitation to just open to what I had been running away from for decades seemed revolutionary to me. The short version of my story, and not one that even begins to do justice to all of the 'aha' moments that I've experienced over these fourteen years, is just this: I accepted Gangaji's invitation to face my fear (and grief and unworthiness), I eventually, and mercifully, became disillusioned with my own questions, gave up on enlightenment and finally surrendered to just being myself. I did not have a sudden moment of awakening, as I had prayed for. It was more like a miracle that happened over time. It was undeniable. And it still is.
Available. That is maybe the word that Gangaji uses that is my most favorite. After the tangle of my own suffering started to loosen, I somehow became available for an awakening that wasn't just about my own bubble. I have come what you might call full circle from my days at the literacy center. And now the invitation is to inquire even more deeply into the privilege of being white (not to mention being a privileged person, period). The capacity to be profoundly uncomfortable in that investigation has been a crack in the door, an opening to creativity, accountability, and inspiration I hoped was still there, but feared I had lost.
Watch: Hillary speaks about a woman who provides great inspiration in the pursuit of racial equality…