Excerpts from Wake Up & Roar, by H.W.L. Poonja, compiled and edited by Eli Jaxon Bear.
The Cry of Freedom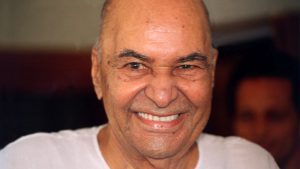 Just give rise to the single thought, "I want to be free." Out of the entire population of six billion, only a handful will give rise to this thought. It is the most rare thought.
I call this thought of freedom going against the stream and toward the source. It does not require any effort to give rise to this thought. The thought, "I want to be free" is itself free. This thought will take you to freedom.
Allow yourself some time; even an instant is all it takes for this recognition. Once only. Look into and recognize your Self within this instant. You don't need a long program spread out over years to recognize this freedom. You are already free. It is only this recognition that you are postponing. You must recognize your own nature or you will not be happy. I think you could well afford to be available for a few moments. You have spent all your life for others, and not even this one instant for your Self.
Everyone possesses you. When you are born, your parents say you are "my son." Go to school next, and you're "my student." Then marry and you're "my husband," "my wife." Have children and you're "my father," "my mother." Remove these possessions. Let no one possess you. Reject everything and see what happens.
You have to devote some time for your Self. You have to reach your home. There is no escape. You must decide, do you want to play more, or do you want to return home? You are already free. It is only your illusion that you are not. The moment you declare "I am free!"—eureka! This is a very happy moment.
Meditation and Practice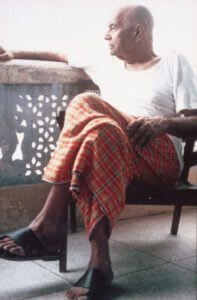 The are many practices, rituals, mantras, and forms of yoga being practiced around the world. This is very good because something in this direction is better than getting lost in the world. Whatever practice you do focuses on a particular center. Physical practice is the body. Vital practices are pranayama, kundalini, kriya, and so forth. Raja yoga and intellectual practices focus on the mental center. The question is: What is the goal? What do you want? Different practices are for different aims or goals.
Here the goal is attributeless Brahman, beyond the reach of mind or intellect. Brahman is that which is without attributes, a mass of knowledge itself that is association-less, no duality whatsoever. It reveals itself by itself, because it is beyond mind or intellect or senses or any kind of practice. It is self-revealing. To find something in the darkness, you need light. To see the light, you don't need a light. It is the light itself. Self-revealing. Self-luminous. No association is possible because it is attributeless. What is being advised here is to realize the attributeless, immaculate, eternal Brahman—pure consciousness. As your nature is always consciousness, never is there a time when consciousness is not present.
Mostly the mind clings to suffering, to separation. Who has created separation? Mind has created separation, and no-mind, no thought, will remove this separation. The separation doesn't exist. Even to say "I am separate" is a joke.
When there is no mind, there is freedom! Concentrating on an object, like the breath or body, is done with some effort. Effort is needed between the observer and the object of observation. When there is effortlessness, when the mind does not function and returns to a natural state of calm, of peace, this is freedom.
You have to find your true nature, who you are. How to do it? To have freedom doesn't require any effort or method. Before trying to know anything else, or to follow any method—even those prescribed to you by the ancient saints—leave aside everything. Sit quietly and do not move your mind or intellect. Then observe the observer. This is your true nature from where everything else comes.
If you make any effort or use any method of trying to achieve something at some distant future, this will bring you into time—and time is mind. So this will be the play of mind only.
Your original nature is empty. If you follow any thought that arises in your mind, you will find it arises from emptiness, from its source. And when you are aware, when you see, "I am that source itself," then there is no need to practice anything. No need to go anywhere. And you will see that you have always been that. This is called freedom, and you are not to achieve or attain it in some distant future. It is already here.
When you are in the waking state and active in worldly or spiritual activities, you are very conscious of what you are doing. Even in the dream state, you are conscious of dreamer and dream. Sometimes you are brought back to your next waking state, and you are conscious of what was dreamt about. You are also conscious of the joy you have experienced during sleep with no dreams.
By rejecting the states of waking, dreaming, and sleeping, the mind is at rest, at peace. And in this peace, you are very conscious!
This consciousness is present in all states. Consciousness is the basis, the fountain, the source. No word can describe what it is. But neither can you deny that consciousness is ever-existent. Consciousness is existence itself! Bliss itself! This cannot be denied.
Return to Silence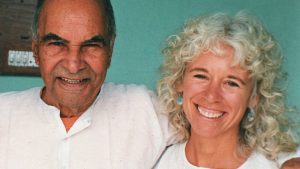 What is enlightenment? Nothing. Even enlightenment is becoming something. Don't become anything. Be as you are. Don't label yourself. Don't have any brand. Brand is for animals. What brand can there be for the Self, which has no name and no form! What is the source of the word "enlightenment"? It is a word, isn't it? Before it was a word, what was the source of the root of this word? Before thought, before labels, there is silence.
This is why I do not give you a practice. If you practice meditation for one hour or two hours, for a ten-day retreat or a one-month retreat, then what about the rest of the year? It must be sixty seconds of each minute, sixty minutes of each hour, twenty-four hours a day. That is true silence. That is true meditation. True meditation never stops. This is why there is nothing to do. No practice. Simply be who you already are.
I am giving you nothing and taking away nothing, only pointing to that which you already are.
Let me tell you what my teacher told me. Just be quiet. This quiet does not involve talking or not talking. It does not involve any doing whatsoever. Just let the mind fall into silence. This is enough.
Watch clips of Papaji's satsang.
See Photos of Papaji