Paul Foster - Keeping God Company
A week ago a dear and courageous friend, Paul Foster, died. Paul was truly a great soul, always the life of the party, bursting with the bliss of freedom.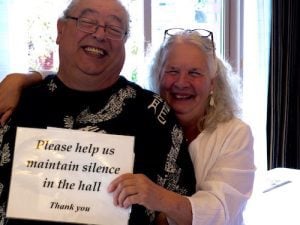 Paul and his beloved wife Jeannie Stevens have been at the heart of Gangaji's Canadian Sangha, and they have been attending retreats since they first met Gangaji in 2001. Inevitably, music has always been a part of it. Many will remember Paul's joyous, full-hearted performances and often riotous morning chant sessions from retreats in the last 20 years.
An entertainer to the last, in Paul's final words he asked, "How will I know I am dead?" To which his wife replied that he would feel much better, and if he saw her mom he could probably be sure he was dead.
In this clip from 2013 Paul sings the first song he every wrote and performed for Gangaji. If you are reading this Paul, we hope you are smiling, and keeping God company.