Highlighting Text & Adding Notes
In some text blocks, you can also highlight text and add notes. Text you highlight or notes you add will be saved, so you can refer back to them later on.
Try highlight some text in the grey box below.
There may come a moment in your life when you have searched long enough for home, you have worked endlessly to fix yourself, and you still remain wanting and wondering. Peace and fulfillment are not in sight. Some might experience this as disillusionment. But perhaps this is the perfect opportunity, the perfect moment for you to stop, to call off the search and discover peace in the last place you thought to look—deep within yourself
As you saw when you highlighted text, a menu pops up and gives you options to undo the last highlight, clear all highlights, or add a note: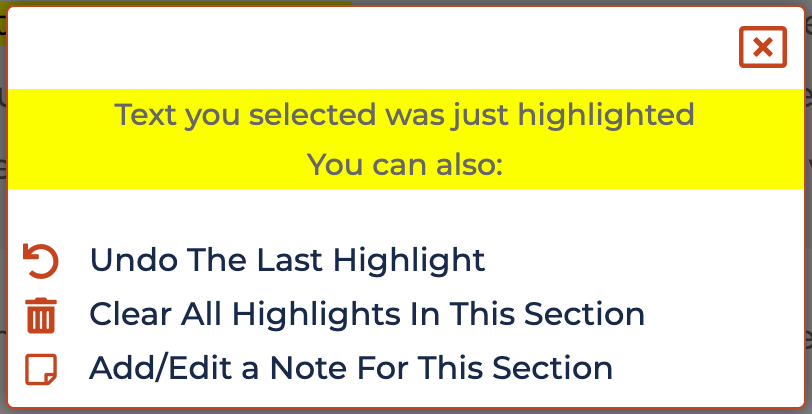 As an exercise, try adding a note. Click anywhere in the grey text above and choose the option to add/edit a note.
Then, give the note a title of my bookmark, put any text you want inside the note, then click UPDATE.
Now you can click on the SUMMARY & OUTLINE tab at the top of this page to go to the outline page. At the bottom you will see your new note/bookmark, and you can click on it to return here.
When you are ready to go to the next page, click the NEXT button below.