The Notes and Highlighting System
In this section, we'll continue exploring the course interface, focusing on the ability to highlight text and make notes.
WELCOME TO GANGAJI'S FREEDOM INSIDE: A COURSE IN SELF-INQUIRY.
We are honored for you to join us, and hundreds of participants across the US, in this opportunity for deeper and deeper self-discovery.
This course is an opportunity to discover for yourself, through direct inquiry, true peace and lasting inner freedom. There are no particular requirements for true inquiry. Whether rich or poor, in or out of prison, with plenty of leisure time and no leisure time, relative freedom or no freedom, all people in all kinds of circumstances have the capacity to honestly inquire.
As you will find throughout the course, inquiry is not limited to any one question. It is actually the capacity of your individual mind to open to discover its source. In our restlessness, we think that we have to do something to get to lasting peace or happiness or freedom. Self-inquiry proves that all that is necessary is to be willing to open the mind.
Each segment of the course will lead you deeper and deeper into an essential discovery that you may not have previously heard about, experi- enced for yourself, or known was even possible. All the inquires will point to a fundamental core truth about who you really are and have always been, a mysterious yet undeniable resonance within you.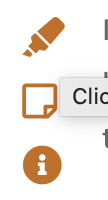 When a note is attached to a text block, or text was highlighted, or other users have added notes/highlights to a section, the icons will appear to the left of the block. They allow:
The user to toggle their highlights on or off.
The user to quickly see the note they left.
See how many others have done something with this block.
Click the NEXT button below when you are ready to go to the next page.